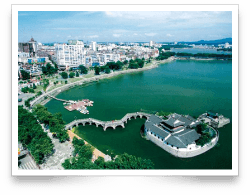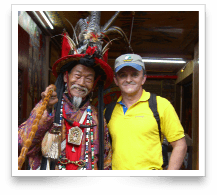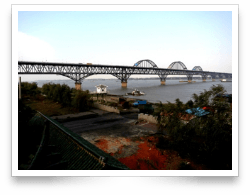 The Immersion Program
At the core of NEC's offerings is our Immersion Program. With short and long-term opportunities, the Immersion Program delivers the invaluable experience of complete immersion within a highly conducive and well-organized learning environment. Attend 2-8 weekly hours of intensive one-on-one Mandarin lessons and learn Chinese with the most efficient program there is.
We provide:
Comprehensive pre-arrival assistance
Airport pick-up and drop-off
Housing accommodations
Comprehensive program orientation
2-8 week hours of one-on-one Mandarin lessons
Weekly cultural activities
Monthly travel opportunities
Teaching/work opportunities
24-hour assistance throughout stay in China
To learn more about this exciting opportunity, choose a tab below:
More Program Information
Teach English in China
NEC offers the professional opportunity of a lifetime through our Teach in China program, which guarantees a secure and reliable English teaching job in Jiujiang at your preferred academic level. Participants are provided with a monthly salary of at least 3,500 CNY, private housing accommodations, and a host of other benefits. In addition to gaining invaluable international work experience, you will be provided with endless opportunities to gain deep, personal insight into one-fifth of the world's population.
An Ideal Learning Environment
NEC selected Jiujiang as its home due to the city's ideal study and living environment. With several major universities, a well-educated populace, pleasant pace of living, dynamic night life, booming economy and stunning natural landscape, Jiujiang is the perfect location to study in China.
Jiujiang vs. China's Largest Cities
When compared to more well-known Chinese cities, Jiujiang offers a much better location to discover Chinese language and culture. Students sometimes assume that Beijing and Shanghai offer the most ideal learning environments, but after Nita's experience living, studying and working experience in China, she found Jiujiang to be a far superior location.
In contrast to China's largest cities, Jiujiang is a perfect balance between beautiful natural landscape and bustling city. While Beijing and Shanghai often sit under hazy skies and collect pollution from nearby factories, Jiujiang has banned all heavy industry in hopes of preserving its natural beauty. Locals frequently boast of its clean air and clear skies. With about 700,000 city dwellers, Jiujiang is a comfortably sized city yet retains its community feel.
Life in the City
Jiujiang's vibrant economy and excellent nightlife are small perks compared to its ideal learning environment, but are equally important to creating a unique study experience. There are dance clubs, bars, gyms, yoga studios, department stores, universities, excellent public transportation networks, as well as flights and trains that link Jiujiang to the rest of China. Jiujiang is a city that maintains China's rich traditional culture yet boasts all the bearings of the PRC's rapid modernization.
"Jiujiang Lushan's Scenery is the Most Beautiful under Heaven"
The famous Chinese expression "Lushan scenery jia tian xia" claims that "Jiujiang's scenery is the most beautiful under heaven," and rightly so. Surrounded by picturesque, dragon's back limestone mountains, the bustling city is comfortably located along China's famous Yangzi River in the gorgeous province of Jiangxi.
Your Gateway to China
Your home at Jiujiang is surrounded by endless opportunities to discover China. A breathtaking natural landscape offers a hiker's paradise, an array of restaurants and bars provide an exciting social scene, and NEC's language and culture experience delivers its student full proficiency in Mandarin Chinese. Jiujiang is a remarkable place to devote yourself to not just studying Chinese, but actually learning Chinese.
Directions to NEC
Address: 江西省九江市庾亮南路171号
By Taxi: If taking a taxi to NEC from the airport, train station, or any other location in Jiujiang, the following directions can be read to, or printed and given to, a taxi driver:
Courses & Admissions FAQs
1. What are your admission requirements?
Students of all levels are welcome to apply.
2. What do I do once I'm accepted to the Chinese Language Institute?
After acceptance to NEC, you will receive a detailed information packet and enrollment checklist by E-mail. The packet will include complete information about the enrollment process and important considerations when studying in Jiujiang.
3. Should I begin studying Chinese before I arrive in Jiujiang?
There are many online Chinese language learning resources available, including both free and paid services. If you would like to begin taking one-on-one courses with NEC before coming to China, please e-mail us at necinfo@necchineseschool.com.
4. Can I arrive before my courses start?
Yes, but housing will not be provided until two days before orientation begins. NEC will provide airport pick-up and drop-off no matter what, even if you wish to arrive early.
5. Can I begin NEC's intensive Chinese Immersion Program on any date of my choosing?
As your Immersion Program coursework is entirely one-on-one, your session can begin on any Monday of your choosing (with the exception of February, due to the Spring Festival holiday).
Daily Life FAQs
1. What is the weather like in Jiujiang?
Aside from snow, Jiujiang's weather covers most of the spectrum. Fall is the most moderate season, winter weather can be very chilly (but never below freezing), spring receives a good amount of rain, and summer temperatures often become quite warm. Jiujinag offers all four seasons.
2. What sort of clothing should I bring?
Because Jiujiang's temperature and weather patterns cover a wide range, it is advised that you bring clothing to fit most weather possibilities. There are fabric markets throughout the city. Choose a fabric and have your clothing made-to-fit for only a couple US dollars!
3. What type of personal toiletries are available in China?
Students are advised to carry a pack of tissues at all times, as many bathrooms do not provide toilet paper. A wide variety of common Western sanitation products can be bought at Jiujiang's supermarkets.
4. How will I do my laundry?
Every apartment will have a washing machine, but no dryer. Throughout all of China, hanging clothes in the sun and soft breeze remains the method of drying clothes.
5. Can I get dry cleaning done?
Yes. There are several dry cleaners throughout the city.
6. What voltage is used in China?
The voltage here is 220. Converters and power strips may be purchased in Jiujiang.
7. Can I buy Western products in Jiujiang?
The majority of Western products can be found in Jiujiang.
8. Does Jiujiang have an international community?
Yes. Jiujiang's international community includes people from the United States, England, Ireland, France, Germany, Spain, Holland, Poland, Switzerland, Russia, Australia, New Zealand, Mexico, Puerto Rico, Estonia, Nigeria, Algeria, Kyrgyzstan, Kazakhstan, Vietnam, Indonesia, Thailand, Malaysia, Korea, Japan, and many more. That being said, Jiujiang is a great place to avoid all foreign contact if so desired. If you choose to do so, you could easily spend the entire semester in Jiujiang and never encounter a situation where you need to speak English.
9. Do I need to bring evening wear to Jiujiang?
Jiujiang is very laid-back and virtually nowhere in town has a dress code (including restaurants and dance clubs). Most people go to weddings in jeans and a collared shirt. That being said, Chinese people do like to dress up when out on the town, and construction workers even wear suits and wingtip shoes on the job. During NEC's orientation, we will visit a fabric market.
10. Should I bring a power converter?
Electricity in China is 220V while in the US it is only 110V. Most computers, iPods, and chargers have built-in converters on their power adapters. Yet electric shavers and hair dryers often do not. Check the voltage range before coming – some electronics range from 110-240V. A converter can also be bought in Jiujiang. Lastly, not all plugs are compatible with Chinese outlets, so this should be taken into consideration as well. If you choose not to bring a converter, you can easily purchase one in Jiujiang.
11. Does NEC housing have free Internet access?
Yes, all NEC apartments have a cable modem Internet connection, and many coffee houses have wireless connections. Internet speed in Jiujiang is not at the same standard as fully developed countries, but high speed 4G Internet is available in many places (including at NEC's learning center). If you do not want to bring a computer, there are numerous 24-hour Internet bars all throughout Jiujiang.
12. Are some Web sites blocked in China? What is the "Great Firewall"?
According to the Chinese Communist Party (CCP), in an effort to prevent pornography and anti-government activity, the Chinese government blocks access to numerous Web sites. Facebook, YouTube, Blogspot, Twitter, and other social networking/blogging sites are among those that you cannot access without a VPN; additionally, major social and political advocacy sites, such as Human Rights Watch and Amnesty International, are blocked.
That being said, the vast majority of Web sites are accessible to the public, including all popular e-mail and news sites. Some topics that you will have trouble searching for are Taiwan, Tibet, Xinjiang, and the Falun Gong, as these are the most sensitive topics in Chinese politics. Many foreigners (and some locals) use a VPN to get around the firewall. Some, such as Tor, can be downloaded for free, but these are not as reliable as paid networks. Witopia offers an excellent VPN for US$60, securing your privacy and providing you with uninterrupted internet access.
Health & Safety FAQs
Please also reference the US State Department's guidelines on medical care in China.
1. Are English speaking doctors available in China?
Yes. If specific medical needs are required, our bilingual international staff can assist the student. During orientation, students will be introduced to locations that provide English speaking doctors.
2. I have pre-existing health conditions. Can I get medicine in Jiujiang?
NEC must be advised of all pre-existing health conditions that a student may have. The vast majority of Western medicines are conveniently provided in pharmacies throughout Jiujiang, as well as many Eastern remedies.
3. Do I need vaccinations before coming to China?
No vaccinations are needed, but NEC advices all students to consult with their doctor concerning personal needs or concerns.
4. Can I brush my teeth using tap water?
While some students choose to always use bottled water, it is safe to brush your teeth using China's tap water. Tap water is purified, but we still strongly recommend not to drink it.
5. Is Jiujiang a safe city?
Jiujiang is a remarkably pleasant and safe city. Elementary school children walk home from school in groups of two or more without parental supervision. Foreigners are treated extremely well, as they are viewed as guests to the city. Jiujiang's local residents are known to go out of their way to assist foreigners with any needs or concerns that may arise.
Last year's Summer Camps were a great hit for those who attended them. We're pleased to announce this year's dates. See our Learn...
Continue Reading
We're pleased to be offering this wonderful opportunity at NEC. Students of the Chinese language can now join us to learn Chinese...
Continue Reading
Did you know there is no need to wait to begin learning Chinese? At NEC, classes are begun and proceed according to each students...
Continue Reading